Concert No. 4 – Free Admission
Sunday, May 15, 2016, 7:00 p.m.
It's almost summer – and we celebrated it with the sensuous music of our final concert of the season, Sensuous Summer.  Admission to this performance was completely free and featured the youthful Serenade for Winds by Richard Strauss, the sensuous Adagio for Strings by Samuel Barber, the sultry sonorities of Niels Gade's Hamlet Overture, and a rich arrangement of O Magnum Mysterium by Morten Lauridsen for brass. The program concluded with the sprightly Symphony No. 8 by Ludwig van Beethoven.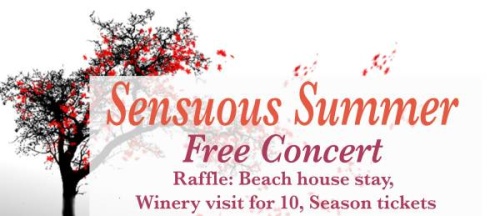 The drawing for the Symphony's annual raffle was held during intermission. Many congratulations to the lucky winners! Among the prizes were a stay at the beach, a party for ten people at a local winery, and season tickets for the Symphony's next season. This concert was supported by a grant from the Cultural Coalition of Washington County and the Oregon Cultural Trust.